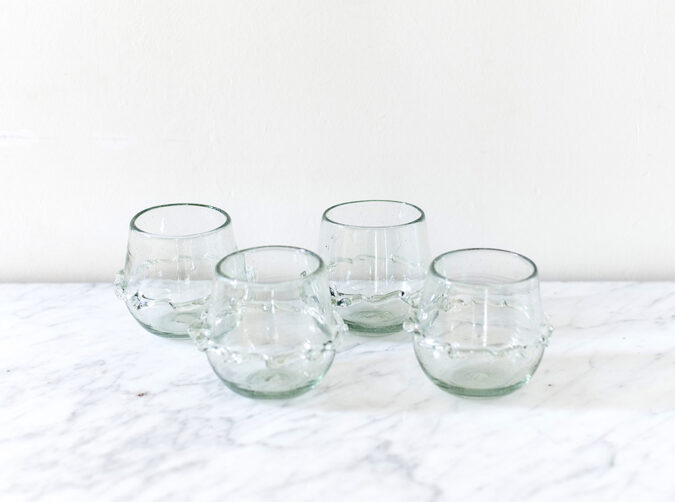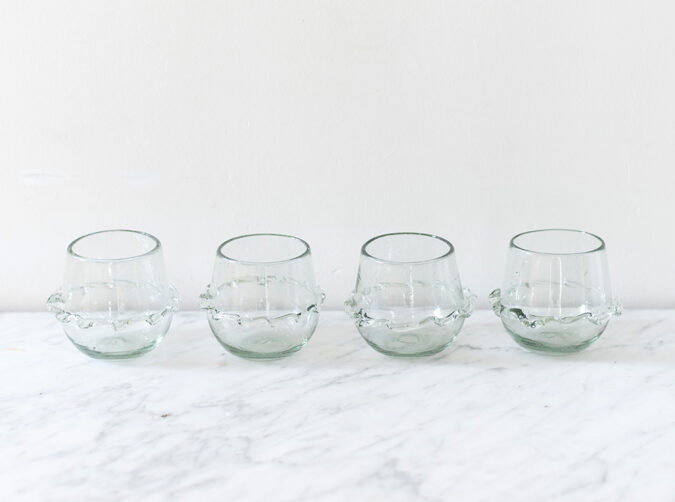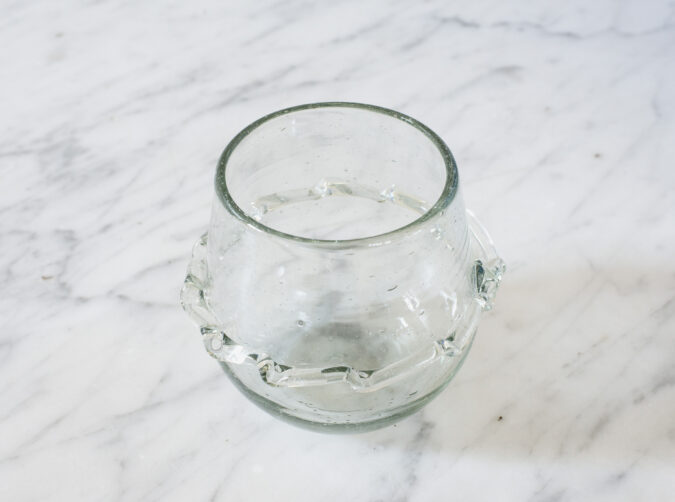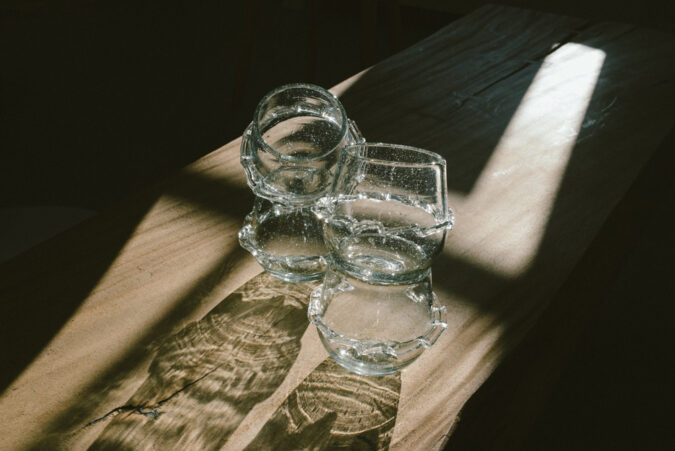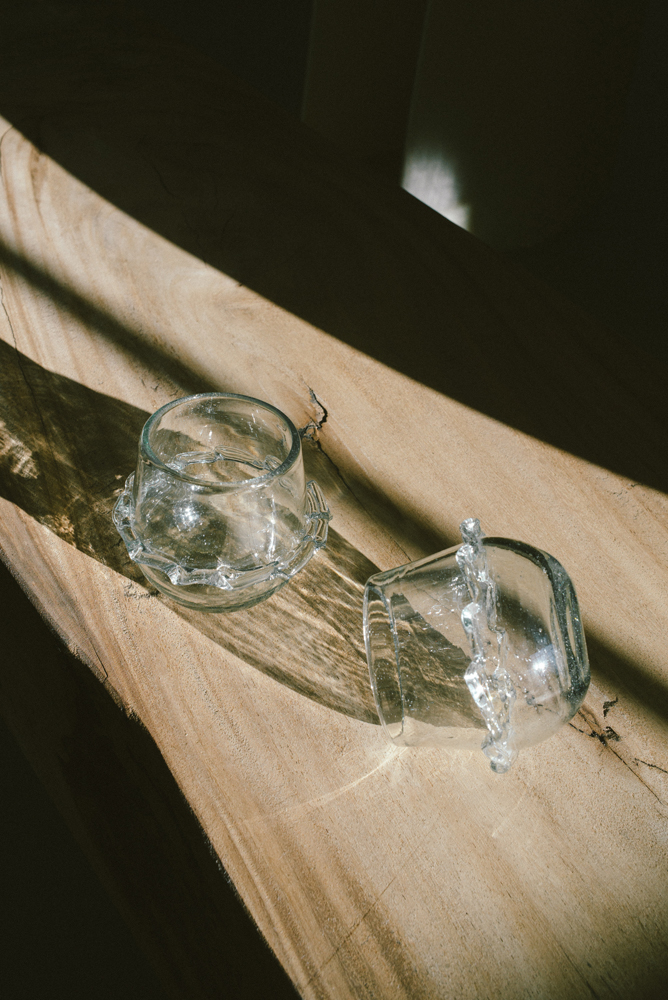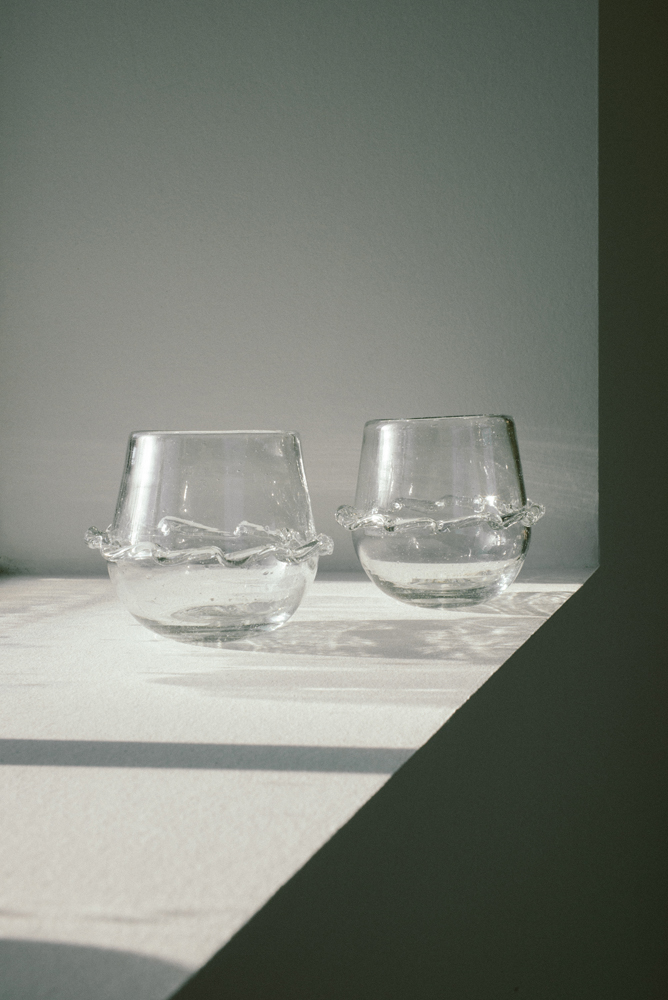 Ola handblown glasses / set of 4
Pre-order now and we will deliver to you within 8 to 12 weeks!

A stylish and functional set of glasses that makes a great and eclectic addition to your tableware. Perfect for cocktails.
All of our glassware is designed in Belgium by Hanne de Wyngaert and then handblown from recycled and re-purposed glass in Guatemala. We strive to provide economic opportunity and celebrate indigenous tradition to create beautiful and functional products.
100% HANDMADE
Set of 4x QOV handblown 'Ola' glasses
Material: 100% recycled glass
Technique: hand blown glass
Dimension: 10cm height x  11cm diameter
Handmade in Guatemala
Because all products are entirely made by hand, there will always be a slight difference in color and dimension.
5 available for pre-ordering
For more info about orders, please e-mail us: orders@queondavos.eu.
Shipping & Returns +
SHIPPING
Worldwide shipping: 35€
If you are delivered outside the European Union, please note that our goods may be subject to import duties and taxes at your own charge. QUE ONDA VOS cannot be held responsible for customs clearance.
If you decide to refuse any shipments from www.queondavos.eu, you are responsible for the original shipping charges to you, any duties, taxes and/or customs charges that are incurred on the package (on both the original and return shipments), and the cost of returning the package to QUE ONDA VOS. This amount will be subtracted from your merchandise refund.
Please note that shipping fees are not refundable.
RETURN POLICY
We accept returns 7 days after delivery. Returned products must not have been washed or used. For more info email us at: orders@queondavos.eu